Description
HOT TENT SAUNA/ WINTER TENT
This tent is universal, it can be used both as a winter tent for living on fishing, and as a mobile sauna. The tent provides the ability to install any stove. For stoves with a smaller chimney diameter, it is necessary to use an adapter ring.
 MODERN 3-LAYERS AWNING KEEPS HEAT LONGER

Through the use of modern materials, the tent keeps the heat much longer than single-layer options. The awning of the tent is made of a three-layer quilted cloth consisting of Oxford 240 fabric, Siberia insulation with a density of 80 g/m2 and light strong Taffeta fabric with reinforcing weaving.
 SPACIOUS FORM

The tent has a cube-like shape and has dimensions close to 2x2x2 meters. The place to install the stove is thought out in such a way that it makes it possible to place the stove compactly without taking extra space inside and without reducing the safety of its installation. In the mode of a tent sauna, there can be up to 5 people at a time.
 DESIGNED FOR ANY STOVE

The tent can be used with any stoves. The stove can burn actively for quick heating, and it can also burn for a long time for a comfortable living in the tent. The tent is able to withstand heating up to 500 degrees in the cut where it touches the chimney.
 USE WITHOUT STOVE

The tent has a hermetic valve that prevents moisture from entering the tent.
 ETERNAL FRAME

The frame of the tent is made of alloy D16T – an alloy of aluminum with magnesium and copper. Such alloys are called duralumin, and duralumin is used in the aviation and space industry due to its strength and relative lightness.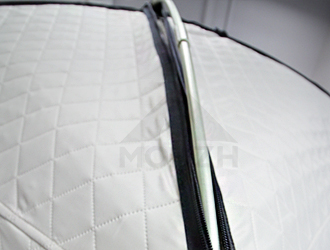 TRANSPARENT FILM WINDOW

Thermopolyuritic film is a modern eco-friendly material capable of withstanding heavy loads, while maintaining flexibility in the cold.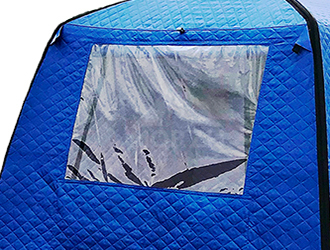 WARM FLOOR

With a tent, it is recommended to use a floor kit made of waterproof Oxford 600D fabric and heat-insulating liners made of IPE (Izolon). The floor fabric is additionally treated with polyurethane impregnation, which does not pass moisture (the floor must be purchased separately).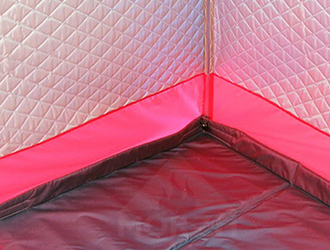 NET
The net is included in the kit and is used to store and dry things. You can put a broom and other accessories for a mobile sauna in it.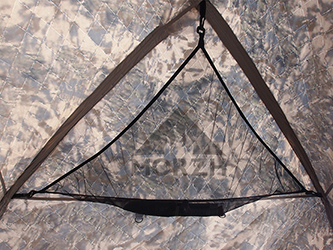 HINGES
Hinges can be used to stretch a rope between them.